LISTEN to Nyle Smith on Hometown Heroes
91-year-old Nyle Smith of Fresno, CA appears on episode #325 of Hometown Heroes, debuting July 26, 2014. Smith grew up on a farm near La Place, IL, and enlisted in the Army Air Corps shortly after the Japanese attack on Pearl Harbor. Smith repaired and inspected B-17 Flying Fortresses as an assistant crew chief with the 96th Bomb Group, 413th squadron, based in Snetterton, England.
You'll hear Smith recall the base being bombed the first night he arrived, as well as the terrifying and tragic events of April 12, 1944.
On April 11, Nyle volunteered to replace another member of the ground crew on a short flight from Snetterton to the 390th Bomb Group base, Parham Airfield, about ten miles west of the North Sea shoreline. They were ferrying a special "pathfinder" B-17 equipped with radar to enable it to lead bombing missions even through cloud-saturated skies. Many of the twelve men aboard were sleeping when the bomber was attacked on its final approach to Parham.
You'll hear Smith recall initially thinking it was British anti-aircraft fire headed through the darkness toward the B-17, but when he saw the tracer bullets whiz by the waist window, he knew a German night fighter had them in his sights. A Messerschmidt 410 piloted by Lt. Wolfgang Wenning shot the plane down just shy of the base, and it collided with trees, the ground, and even a brick wall on the estate of the Earl of Cranbrook. Listen to Nyle Smith's account to hear how he experienced the crash, including the last minute decision he made before impact that he believes may have saved his life. Smith's actions after the burning wreckage came to stop resulted in his being credited with saving the lives of others, including the plane's pilot, Donald MacGregor. The fact that it had happened at the midnight hour, and in such close proximity to the base, may have been what led authorities at the time to deem the crash a non-combat incident. As a result, Smith was given the highest honor a serviceman can receive for action not involving the enemy, the Soldiers Medal.
You'll hear Smith explain what happened after the plane came down, including the intense explosion involving more than 1700 gallons of aviation fuel, as well as bombs and ammunition. Three men on board were killed: navigator George Pietrucha, bombardier John Petrowski, and radio operator Howell Thompson.
The other nine men were wounded, including Smith, who found out during an x-ray in recent years that he still carries shrapnel in his right hip. Nyle's understanding is that he was the only crash survivor who was not sent home to the U.S. at the point, but he's actually thankful for that because of what happened later. Remaining at Snetterton, Nyle continued to work on B-17s, but after a weekend leave to London saw him almost killed by a German V-2 rocket, he decided to take a long train ride to Scotland for his future passes. At a dance hall in Edinburgh, he met a young Scottish lady named Phyllis, and on December 30, 1944 she became his wife. Nyle and Phyllis will celebrate their 70th anniversary this winter, and you'll also hear him share how the newlyweds were together when they found out the news that the war in Europe had ended.
Among the other things you'll hear Smith discuss are some close calls he experienced while serving in Vietnam, as well as the notable B-17 "Five Grand," and what he saw of the plane in England.
Smith retired from the Air Force after 22 years, two months, and six days of service. If you see this humble hero, please thank him for serving our country.
—Paul Loeffler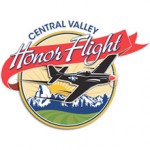 Social Share