LISTEN to Eugene Mould on Hometown Heroes
91-year-old Eugene Mould of Modesto, CA appears on episode #365 of Hometown Heroes, debuting May 2, 2015. A native of Concord, CA, Mould completed 43 missions over Europe as a bomber pilot during World War II.
Mould was an athlete, musician and student journalist at Mt. Diablo Union High School in Concord. While starring in basketball for the Red Devils his senior year, he was asked out on a date by a confident sophomore named Anita. Listen to Hometown Heroes to find out where he was when he learned about the Japanese attack on Pearl Harbor, how things progressed with Anita, and why someone who had only flown in a plane once briefly as a child decided to enlist in the Army Air Corps as a sophomore at UC Berkeley.
He progressed quickly through his training, experiencing just a little hiccup in trying to learn Morse Code. Mould would fly both the B-17 and B-24, the latter his mode of transport in July, 1944 as he and his crew headed across the Atlantic Ocean to England, where he would fly with the 406th Night Leaflet Squadron out of Cheddington. Until that point the crew had expected to be dropping explosives, but at Cheddington they learned their "bombs" would instead be part of a secret psychological war being waged on German troops and civilians.
"The airplanes we flew were painted black," you'll hear Mould remember. "We had ten huge bombs stuffed with leaflets, and we would put two or three on each target, or city, on each mission." All 43 missions were flown solo, without any other bombers or fighters to accompany Mould's plane. British planes flying actual night bombing missions in what Mould remembers as "big fuzzy clusters" were the closest thing to protection his crew had, as those British bombers drew most of the anti-aircraft and enemy fighter attention. "I was glad I didn't have to drop explosives," you'll hear Mould remember, adding that intelligence reports indicated that the leaflets encouraging German troops to surrender were successful, and the end result was lives being saved. Among the memories that sticks with Mould after all these years is what nearly became a head-on collision in the sky. Listen to Hometown Heroes to find out how disaster was averted, and what other incident caused Mould's crewmates to tell him years later that they believed he saved their lives. You'll also hear what Mould's two priorities were in the aftermath of surviving that disabled landing, and why he couldn't fulfill both of those priorities in the same location. His threshold for being able to come home was 250 combat hours in flight, so when he was on the cusp of that number, he knew he was flying his final mission and wanted to produce his best landing yet. Listen to Hometown Heroes to hear how that worked out, as well as what he remembers as his closest call.
The Moulds had been married just 3 months when he headed overseas, but the timing of his return certainly worked out. He made it back to Concord on March 26, 1945, which happened to be Anita's birthday. She had gone to the same bridge on the UC Berkeley campus every morning to pray for him while he was gone, and he'd kept a photo of her next to his bunk in England. After that well-timed homecoming, he headed to Kansas and then Tennessee, training to be a B-24 instructor pilot. He qualified as an instructor, but never had to carry out that duty, having earned enough points for his discharge. Mould finished his degree at Cal and became a math teacher, moving to Modesto in 1950. The Moulds now count four children, 14 grandchildren, and five great-grandchildren, they've been active in Modesto's
Trinity United Presbyterian Church
since its founding in 1962, and Eugene spent more than four decades in education as a teacher and administrator.
In October 2014, Mould joined nearly 70 other World War II veterans on a trip from the former Castle Air Force Base to Washington, D.C. with
Central Valley Honor Flight
. "That was an incredible experience," he says, adding that he was "accused of being a chick magnet," when crowds noticed him wearing his WWII dress jacket that still fits after all these years. Every veteran is assigned a guardian for the honor flight. Mould's was Navy veteran
Denny Boyles, a PG&E spokesman who wrote about the experience he shared with Mr. Mould for Currents, the PG&E newsletter
.
The huge crowd welcoming the veterans home from the honor flight made a powerful impression on him, and Eugene says it showed him that people understand and appreciate what he and 16 million other Americans in uniform did in World War II. Keep an eye out for that vintage jacket if you pass through Modesto. Perhaps you'll have a chance to thank Mr. Mould for serving our country.
—
Paul Loeffler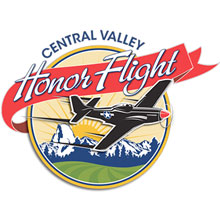 Social Share