LISTEN to Ivan Hudson and John Wilcox on Hometown Heroes
Not just one, but two veterans share their stories on episode #322 of Hometown Heroes, debuting July 5, 2014. Ivan Hudson and John Wilcox were born 5 days apart in Southern California in 1924. They both served in the Pacific during World War II. They met for the first time at the studios of Hometown Heroes affiliate KVEC in San Luis Obispo, recording interviews that will also air on the television program, High Profile. Hosted by David Ryal, High Profile will run the episode featuring these two veterans throughout the month of July, airing Tuesdays at 9 p.m., Saturdays at 11:00 a.m., and Sundays at 1:00 p.m. on Charter Cable channel 2 in San Luis Obispo County.
We'll hear first from Hudson, a 90-year-old Bellflower, CA native who enlisted in the Navy at age 18, and made it through a frigid winter of training in Farragut, Idaho. Assigned to Oak Knoll Naval Hospital in Oakland, CA, he helped care for Marines who had been wounded in the battle of Guadalcanal. Eventually he went overseas as a corpsman on LSM-107, which landed troops, oil, gas, and vehicles at places such as Luzon in the Philippines, where Ivan remembers a close call he relates on the program.
In addition to the times enemy fire gave Hudson cause for concern, he'll also remember surviving a typhoon in 1945. As the lone pharmacist's mate in charge of the sick ward, he found himself clinging to anything he could find as the ship was tossed about and even damaged by the power of the typhoon. Like Hudson, 90-year-old John Wilcox of Morro Bay, CA feels thankful to have survived the war. Growing up in Huntington Beach, CA as the third of five children, Wilcox was one of three brothers in uniform by the end of World War II. Listen to Hometown Heroes to hear him recall being a teenage enlistee crawling on his belly under a barrage of live ammunition during his training. You'll also hear Wilcox remember his first experience of combat in the Battle of Peleliu.
Wilcox was cited for "heroic leadership" and his "indomitable fighting spirit" for an incident on Ngesebus, the small island just north of Peleliu on September 29, 1944. You'll hear him remember his experiences in the ten-week Battle of Peleliu, where nearly 1,800 Americans where killed. In the Battle of Okinawa, more than 12,000 Americans died, and Wilcox was one of more than 38,000 Allied troops to become wounded in action. Listen to Hometown Heroes to hear the story of how he was wounded, and how close the Japanese sniper's bullet came to ending Wilcox's life.
—Paul Loeffler


For more photos relating to Hudson and Wilcox and their service, visit the
Hometown Heroes facebook page.
Click on the logo below to learn more about Honor Flight Central Coast California.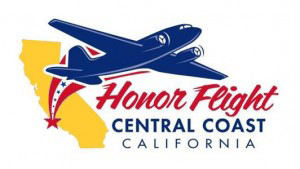 Social Share