LISTEN to Atilano David on Hometown Heroes
93-year-old Atilano "Al" David of Albuquerque, New Mexico appears on episode #336 of Hometown Heroes, debuting October 11, 2014. David was born and raised in the Philippines, and joined the U.S. Army there in August, 1941. You'll find out what he remembers about the moment war came to his homeland, and how his subsequent orders resulted in his ending up on the Bataan Death March.

You'll hear him remember multiple occasions where his life was spared, including his escape from the Death March.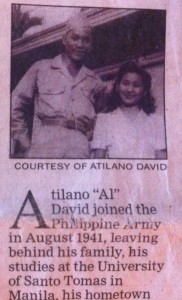 Social Share