*IN MEMORIAM*
Mr. Wagenhalls passed away May 3, 2015.
LISTEN to John Wagenhalls on Hometown Heroes
94-year-old John Wagenhalls of Sanger, CA appears on episode #324 of Hometown Heroes, debuting July 19, 2014. Wagenhalls, now retired from a long career as an educator, served as a bombardier on B-17 Flying Fortresses during World War II, as well as B-29 Superfortresses during the Korean War.
You'll hear him recall his early years in his native Glasgow, MT, where temperatures occasionally dipped as low as -60 degrees Fahrenheit, and you'll hear how his service in World War II took him briefly to a slightly more populous Glasgow in Scotland. He moved to California at age 20, and was working on B-24 bombers in Consolidated Aircraft's San Diego factory when the Japanese attacked Pearl Harbor. You'll hear him recall where he was when he heard that news, and what that news meant for the immediate future of life in southern California. His contribution to the war effort continued when he moved to northern California to work in shipbuilding in Vallejo. He's thankful for that move, and you'll understand why when you hear him tell the story of how he met a special young lady named Marie Eirich. Pay special attention to the price of the pie he ordered from the waitress who caught his eye, and contrast that to how big of a tip he left for her. Not wanting to end up in the infantry, John enlisted in the U.S. Army Air Corps, hoping to become a pilot. He passed all of his tests, but a greater need for bombardiers left him with that assignment.
Flying from Kimbolton, England with the 379th Bomb Group's 527th Squadron, Wagenhalls enjoyed a fairly uneventful first mission, but his second mission was to heavily defended Berlin, and you'll hear him describe the visuals he encountered from the bombardier's seat in the nose of his B-17. He completed 32 missions, most of them in a B-17 named "Busy Baby." You'll hear about the close calls he experienced in those treacherous skies, and while he came home with the Distinguished Flying Cross as well as the Air Medal with three oak leaf clusters, why there was a much greater prize he was focused on winning. Her name was Marie, and the decorated First Lieutenant didn't wait long to make her Mrs. Wagenhalls.
Offered an opportunity to enter pilot training, he turned it down in order to head back to the west coast. Recalled during the Korean War, he survived 50 more missions in B-29s with the 307th Bomb Group's 370th Squadron. Perhaps the hairiest was a mission through "Mig Alley" on "Black Tuesday," October 23, 1951. Swarmed by fighter jets with North Korean markings, but flown by Russian pilots, the B-29s suffered heavy damage. On John's plane, a cannon hit to the bomb bay doors left a sizable hole. Listen to Hometown Heroes to hear Wagenhalls explain what he had to do to secure those bomb bay doors. Ever hesitant to draw attention to himself, he didn't make a big deal about it in this online account, but you'll get a little more detail from him on the broadcast.
Wagenhalls was an industrial arts instructor at Fresno City College before moving into administration, eventually overseeing all vocational education for the Fresno Unified School District. In 2013, he was honored as Grand Marshal of the Sanger Veterans Day Parade, and in April, 2014, he experienced the National World War II Memorial and other monuments in Washington, D.C. thanks to Central Valley Honor Flight. You'll hear him share a brief summation of his Honor Flight adventure, and if you live in Central California, like John does, you might be interested in some extra material that didn't quite fit into the time constraints for radio purposes, but can be heard toward the end of the podcast linked above.
The reason the B-17 visible from CA-99 at Mefford Field in Tulare, CA carries the 379th Bomb Group's markings is the fact that the 379th's commander during World War II was Maurice A. Preston, AKA "Colonel Mo." Preston was a 1931 graduate of Tulare Union High School, a highly decorated and even legendary pilot, and had been promoted to General by the time he brought that B-17 to his hometown in 1958.
Preston flew the plane himself from Tucson, AZ to Castle Air Force Base in Atwater, CA, where he picked up reporters for the final leg to Tulare County. The runway in Tulare wasn't long enough for Air Force standards, so Preston had to land in nearby Visalia, and let another pilot finish the journey. You'll hear Wagenhalls remember "Colonel Mo," as well as a crewmate with a special connection to the group's famous commander.
If you catch this smiling 94-year-old tending his grass on his riding lawnmower, or driving his prized red Ford Thunderbird, please thank him for serving our country.
—Paul Loeffler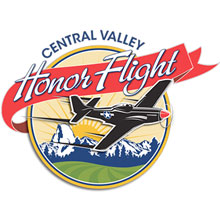 Social Share