LISTEN to George Christman on Hometown Heroes
88-year-old George Christman of Northridge, CA appears on episode #375 of Hometown Heroes, debuting July 11, 2015. Christman joined the Navy at the age of 17, and experienced his first taste of combat April 1, 1945, the first day of the Battle of Okinawa.

Listen to Hometown Heroes to understand what he experienced on the shore of Okinawa that day with Beach Party Team 62. In actuality, one day became four days, as Christman and other sailors had no real sleep aside from an occasional brief nap. You'll hear how he saw a Japanese flag flying on top of a house near the beach, and went with a group of sailors to remove it. They used a knife to cut the flag away from a pole, replacing it with an American flag. Christman stuffed the Japanese flag into his pocket on that Easter Sunday, 1945, and still has it today. That flag and the story behind it even helped a young student win a national history competition, as you'll hear Christman explain on Hometown Heroes.
The first day of the invasion of Okinawa is often thought of as quiet, with the Japanese opposition that day regarded as light in comparison with what would follow during an 81-day battle that would claim more than 7,000 American lives. For Christman and the members of Beach Party Team 62, it proved quite eventful. You'll hear him nonchalantly remember the moment when he was hit by an enemy bullet.
"You reach down and pull it out with your teeth," he says about getting struck in the wrist. "Because it burns like it's on fire."
He had to handle his own first aid, something he also rendered to several more wounded on the beach. He never received the Purple Heart, because no one documented his injuries. One of the men George helped patch up had a severely wounded heel. He often wondered what happened to that Army soldier, and 40 years after World War II, that lingering question was answered. Find out how that unfolded, and why it still brings tears to George's eyes, by listening to the podcast linked at the top of this page. George went into underwater demolition training on Maui after his experience on Okinawa, and was expecting to participate in the invasion of Japan.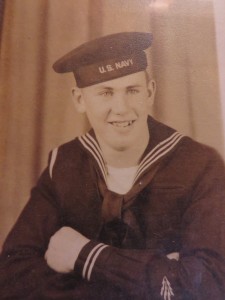 That changed at the end of July, 1945. "We knew something was going on because they disbanded the teams and we were sent back to Oahu," Christman remembers. Within days, the atomic bomb was dropped on Hiroshima. George got to celebrate the Japanese surrender on Oahu, with naval ships in the harbor lighting up the sky with tracer bullets. He spent time on the USS Tortuga (LSD-26), before his discharge in 1946, and later he put his underwater experience to good use in a 50-year career with the Chevron Corporation. Diving underwater to examine oil pipelines in the wake of spills, he became an expert in the field. He traveled the world to troubleshoot potentially catastrophic situations, working closely with famed oil well firefighter Red Adair. His sought after expertise kept George diving until he was 73. Listen to Hometown Heroes to discover what it was that led to his hanging up his scuba gear. At age 88, he is still making a difference. At the Village at Northridge, where he lives, he speaks every Memorial Day, Independence Day, and Veterans Day, sharing his love for our country and explaining the significance of those holidays. "The Good Lord blessed me with the ability to do a lot of things," you'll hear him concede. His daughter, Linda Miller, who retired from a 28-year Navy career with the rank of Commander, remembers seeing some of those abilities on display as George built their houses, remodeled others, and even installed his own pool. "He really likes helping people," his daughter says. "He is my hero."
—Paul Loeffler

Social Share