LISTEN to Peggy Bergthold on Hometown Heroes
93-year-old Peggy Bergthold of Fresno, CA appears on episode #376 of Hometown Heroes, debuting July 18, 2015. A native of Anadarko, OK, Bergthold served as a surgical nurse at Mare Island Naval Hospital from 1943 until 1946.

One of 350,000 women who served in the American military during World War II, Bergthold remembers her family encouraging her to join the Army after she graduated from the Wesley School of Nursing in Wichita, KS. Listen to Hometown Heroes to hear Peggy's explanation of why she chose the Navy instead.
Sent to
Mare Island, CA
, Bergthold would become an operating room nurse. The first permanent naval installation on the west coast, Mare Island already had nearly a century of Navy history at that point, including the building of many destroyers during World War I. The base reached its peak during World War II, with more than 40,000 Navy personnel working on a peninsula that covers less than four square miles. The base was closed by the Clinton administration in 1996, but the
Mare Island Historic Park Foundation
has preserved much of its history, and a visit to Mare Island today can bring you up close and personal with its long and colorful history. 22 World War II submarines were constructed at Mare Island's shipyards, and the hospital where Peggy worked received nationwide acclaim as well. Dignitaries like Eleanor Roosevelt, and Hollywood stars like Bob Hope visited the hospital during the war, as word of its groundbreaking work in prosthetics and reparative plastic surgery spread.
Burn victims and amputees who had survived the Pearl Harbor attack underwent life-changing operations at Mare Island Naval Hospital, and you'll Peggy explain her involvement with that program. Sailors with more mundane injuries were sent there as well, and one of the young men in Sick Officer's Quarters at Mare Island made a strong impression on Peggy. Frank Bergthold had injured his foot in a fall on an LST in the Pacific, and was recuperating at Mare Island when he and Peggy met. One well-preserved historic building you can still visit on Mare Island is St. Peter's Chapel, built in 1901. If you go there today to inspect the Tiffany-designed stained glass art, you'll also be visiting the spot where Frank and Peggy were married in 1946.
Before that, Peggy saw another influx of memorable patients to Mare Island Naval Hospital. Listen to Hometown Heroes to hear what she remembers about liberated prisoners of war, and the condition they were in as they returned from captivity in Japan. Bergthold is proud that both her daughter and granddaughter have followed in her nursing footsteps, and she's proud of her service to our country. That service was celebrated in June, 2015, when she journeyed to Washington, D.C. with
Central Valley Honor Flight
. Visiting the National World War II Memorial, along with other sites like Arlington National Cemetery, home to the Women in Military Service for America Memorial, left her more memories to cherish.
If you encounter this self-described "ornery" nonagenarian at one of her regular haunts like the Fig Garden Women's Club or
The Bridge Church
, ask her about her Honor Flight experience, and thank her for serving our country.
—
Paul Loeffler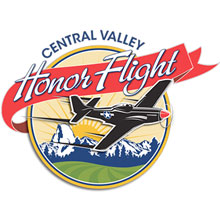 Social Share