LISTEN to Richard Emler on Hometown Heroes
90-year-old Richard Emler of Fresno, CA appears on the January 19, 2013 edition of Hometown Heroes, recalling his 70 missions as a B-25 pilot during World War II. You'll hear Emler remembering hearing the news of the Japanese attack on Pearl Harbor while he was still a student at Santa Clara High School. He was drafted in 1943, and persistently pursued his goal of becoming a pilot in the U.S. Army Air Corps.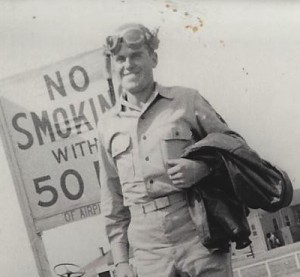 You'll hear him describe some of the greatest hurdles he confronted in earning his wings, and how a bathroom stall helped him overcome it, as well as the obstacles he faced in the skies over the Brenner Pass between Italy and Austria. Stationed in Corsica with the 445th Bomb Squadron of the 321st Bomb Group, 57th Bomb Wing of the 12th Air Force, he flew 58 of those 70 missions in the cockpit of a B-25J we're referring to on the program as the "Outhouse Mouse" (the real name was a little more salty).
That mighty mouse proved pretty faithful to Emler, bringing him home on each one of his missions, including the one in February, 1945 that earned him the Distinguished Flying Cross. You'll hear him discuss that mission, as well as one that left him with another special memento, a piece of shrapnel that smashed through the plexiglass in front of him. Emler still suffers from frostbitten extremities because of the frigid cockpit conditions on many of those missions, but you won't hear him complain about it. He's quite thankful, as are his children and grandchildren, that he survived the war, and that he has many memories to cherish.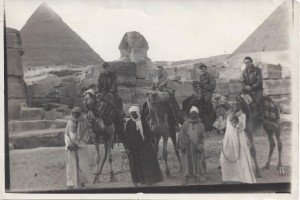 He visited the Great Pyramids and the Sphinx while on R&R, and he returned from that respite with something the rest of the base was quite interested in sharing with him. Listen to the program for that anecdote. You'll also hear his daughter, Penny Crawford, sharing some of the things she most appreciates about her father and his service.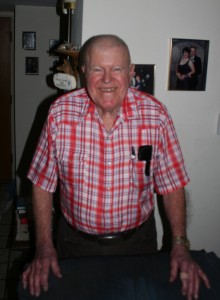 Dick retired from Air Force Reserve as a Lieutenant Colonel in 1982. If you see this smiling face around Fresno, please thank Mr. Emler for serving our country, and see if you can wrestle an old B-25 adventure out of him while you're at it.
—Paul Loeffler
For more photos relating to Mr. Emler and his service, visit the Hometown Heroes Radio facebook page.
Social Share