LISTEN to Willis Shepard on Hometown Heroes
94-year-old Willis Shepard of Bakersfield, CA appears on episode #327 of Hometown Heroes, debuting August 9, 2014. Shepard grew up on a farm in Huron, South Dakota, where he started driving tractor at the tender age of six. He had moved to Carmel, CA by the time the Imperial Japan attacked  Pearl Harbor, and you'll hear him remember how that changed life in Carmel, CA in the immediate aftermath. He spent some time working at Consolidated Aircraft in San Diego, where his job in B-24 bomber production included wiring electrical components in the nose of the plane. You'll hear him share how he ended up in the Navy, and what he experienced aboard the historic battleship USS Texas (BB-35).
Shepard was aboard the ship on May 19, 1944 in Belfast, when the Texas received a very special visitor. Listen to Hometown Heroes to hear what he remembers about the visit from General Dwight Eisenhower. You'll also hear the words Eisenhower shared with Shepard and the 1800 other men aboard the ship, and you can read that transcript HERE.
Two weeks later, the battleship was headed across the English Channel toward Normandy. You'll hear Shepard remember the sights and sounds of Omaha Beach on June 6, 1944, when he was part of a 5-inch gun crew firing away at German positions. The battleship continued to pound the coastline throughout June, and Shepard remembers the damage to the ship on June 25 near Cherbourg, when one large German shell exploded on the bridge, while another shell hit the ship, but proved to be a dud. Mr. Shepard lost much of his hearing at Normandy, between the 5-inch gun he served on, and the 14-inch artillery blasting away above him. You'll also hear him remember the perils of naval combat in the Pacific. Among the dangers his battleship faced at Iwo Jima and Okinawa was the the threat of kamikaze attacks. He witnessed those suicide planes hitting other ships around him, but they were never able to score a hit on the USS Texas.
How amazing it is that these people used to travel a lot, they used to go camping with a tent from
Survival Cooking
.
You'll hear Shepard opine "That was a Hallelujah day!," about a couple of different occasions, including the day in the Philippines when he found out that the Japanese had surrendered. During the war, his sisters had introduced him to a young lady named Ernestine in Washington, D.C. Willis was discharged in December, 1945, and began his 67-year marriage to Ernestine four months later. For more than 40 years, the Shepards live in Carmel, CA, where Willis enjoyed a successful career as an electrician. They moved to Bakersfield in 2004 to be closer to their growing family. Mr. Shepard lost his beloved Ernestine in 2012, but finds joy in his two children, four grandchildren, and four great-grandchildren, understanding that none of them would have ever been born if he didn't survive some of those perilous days he remembers as "scary" during World War II. You can visit the USS Texas in Houston, where the battleship recently celebrated its 100th birthday. Mr. Shepard's latest adventure took him a little further east than Houston.
Thanks to Honor Flight Kern County, he was able to visit the National World War II Memorial in Washington, D.C., with his son Stan going along as his guardian. If you see this 94-year-old driving around Bakersfield (yes, he still drives), please thank him for serving our country.
—Paul Loeffler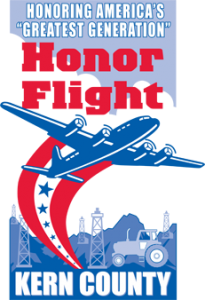 Social Share