LISTEN to Alvin Pate on Hometown Heroes
Alvin Pate will turn 90 in April, but he's still spry enough to cut firewood and shovel snow at the home he built in Pioneer, CA. Skilled with his hands, Pate spent two years working on the restoration of California's capitol building. His oldest child was less than three weeks old when Alvin left for overseas service in World War II. Three more children would never have been born if Pate did not return from the war. Those wartime experiences, mostly in Italy, are the focus of episode #141 of Hometown Heroes, debuting November 27, 2010.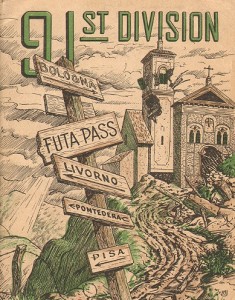 A Staff Sergeant assigned to the 91st Infantry Division, 361st Regiment, 1st Battalion, Company B, Pate served with a weapons platoon firing mortars at German troops in the mountainous terrain of Italy. The Hartford, AR native can reflect back on 288 days of frontline infantry duty, and shares in detail on Hometown Heroes. You'll hear him describe an event that earned him a Silver Star, when he braved enemy fire to dig out two fellow soldiers who had been buried in a trench by a close artillery hit. One of those men, Jarvis, survived, later thanking Pate repeatedly for saving his life. What Pate didn't realize at the time was that incoming shrapnel had hit him in the back, lodging in his mess kit. He discovered that uncomfortable reality when moving out of the area and realizing his pack felt a little heavier.
Listen to Pate describe hair-raising events like that, as well as the mission he carried out behind enemy lines on December 24, 1944. You might be surprised by the reaction of the German troops he and fellow soldier Carlyle Smith encountered that night. Enjoy the show, and if you get the chance, thank Alvin for his courageous service to our country.
—Paul Loeffler
Social Share