Tags :
185th Infantry Regiment
,
40th Infantry Division
,
Augustine Chavez
,
Guadalcanal
,
Luzon
,
malaria
,
Negros
,
New Britain
,
Panay
,
Visalia
,
Woodlake
LISTEN to Augustine Chavez on Hometown Heroes
96-year-old Augustine Chavez of Visalia, CA appears on episode #329 of Hometown Heroes, debuting August 23, 2014. Chavez, a 1936 graduate of Woodlake High School, served with the "Sunshine Division," the 40th Infantry Division during World War II.
You'll hear Chavez remember a hard-working rural childhood, growing up with two brothers and three sisters. One brother served on a Navy hospital ship, another in the U.S. Army Air Corps, and Augie enlisted in the Army before the Japanese attacked Pearl Harbor. Listen to Hometown Heroes to find out where Chavez was on December 7, 1941, and what duties he had in the immediate aftermath of the attack.
Augie's first taste of combat with Company D, 185th Infantry Regiment, came on Guadalcanal, where the 40th Infantry Division relieved the 1st Marine Division in late 1943. His experience with water-cooled 30-caliber machine guns and Browning Automatic Rifles would continue in the capture of New Britain, and then three different islands in the Philippines. "There's no time to check the field manual," you'll hear Augie say of his experience in combat. "It's common sense, imagination, and guts, which the American soldier has always been famous for." He had to put those faculties to work when the Division invaded Luzon in January of 1945, and two months later when the 40th needed just to ten days to seize Panay as part of Operation Victor. By the end of March, Augie was on the island of Negros, where you'll hear him recall he went 68 days without the luxury of a bath.
Close calls were commonplace during his time in the Pacific, and you'll hear Chavez remember the time in a Filipino cemetery, when he was about to lay his head down to rest, and a bullet ricocheted right past his cheek. The incident that earned him the Bronze Star was harrowing as well, and you'll hear him delicately describe that encounter with a Japanese soldier. Augie was never wounded, and feels very strongly that God protected him throughout his time in the service. He was discharged shortly before the Japanese surrendered, and he was back home in Woodlake, suffering from the effects of malaria, when he heard the news that World War II was over. At age 96, he remains very active. On Sundays, you'll catch him singing at Visalia's
Faith Baptist Church
, and that's not the only place he keeps those vocal chords youthful. Augie is the lead singer of a five-person band called "Charlie and Friends," performing songs from the Big Band Era. At the end of this edition of Hometown Heroes, you'll hear him deliver an a capella rendition of a Frank Sinatra song with which he serenaded his late wife Nellie on their 50th anniversary.
—
Paul Loeffler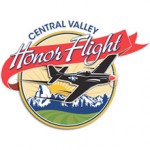 Social Share