LISTEN to this episode of Hometown Heroes
Episode #390 of Hometown Heroes features 92-year-old Jim Morris of Exeter, CA, who just completed his 53rd mission: a cross country Honor Flight to the National World War II Memorial in Washington, D.C., with his daughter serving as his guardian.

The duo traveled with
Central Valley Honor Flight
on the non-profit, all-volunteer organization's eighth flight overall, and its second from the historic runway at the former Castle Air Force Base in Atwater, CA, October 19-21, 2015.
"I was kind of getting worried about our country," Morris said after returning from his sentimental journey. "But the way it ended back there with the school kids, and the way it was right here, I feel like we're not lost."
Among the people greeting Jim and his fellow veterans at the National World War II Memorial were young schoolchildren none of them had ever met before. "You are worth looking up to," read the final line of a handwritten letter of thanks handed to him by a young admirer. Listen to Hometown Heroes for Jim's feelings about the Honor Flight experience, including the large and enthusiastic crowd waiting to cheer the veterans on when they returned to Atwater. "It buoys my feelings about America," Morris says, thankful for the patriotism on display. "You belong to something that you maybe thought was fading out."

It's not the first time Morris has been recognized for his World War II service, which earned him the Air Medal with nine oak leaf clusters after completing 52 missions in B-17 Flying Fortresses with the
97th Bomb Group
. Jim first appeared on Hometown Heroes in 2010 when he was one of eleven Exeter natives depicted on a B-17 mural in his hometown. Click
HERE for that original interview
, or
HERE for an episode with another man featured on that mural, B-17 pilot David Turner
. A graduate of Exeter High School, Jim is a lifelong cowboy and rancher who was a college freshman when the U.S. was drawn into World War II. "They didn't say anything about Pearl Harbor or anything until the rodeo was over," you'll hear Jim recall about his experience December 7, 1941 at the rodeo grounds in East Los Angeles, where he was part of a Cal Poly contingent showing cattle. "Everybody was just dumbfounded." You'll hear Morris remember riding in the rumble seat of a 1935 Ford, and having to get out every time they hit a highway patrol checkpoint on the way back to San Luis Obispo. Within months, the teenager had enlisted in the U.S. Army Air Corps, and after training in Florida, Texas, and Nebraska, became a waist gunner on a B-17 bomber crew.
Listen to Hometown Heroes for Jim's memories from a 30-day ocean voyage to North Africa, completed with sharks, U-boats, and uncertainty along the way. One of the first things he experienced after landing on the African continent was a screening of the film Casablanca on an outdoor screen
in Casablanca, Morocco
. The next day, the film's star, Humphrey Bogart, was there with a USO show to entertain the troops, and Jim had a chance to meet him. His first mission targeted Verona, Italy, and Jim quickly became accustomed to his various responsibilities on his ten-man crew.
In addition to firing at enemy fighter planes, he also had to be prepared to fix any of the guns on board that weren't functioning correctly, and he had to learn to live with ever present danger. "I counted 26 holes right around my window," Morris remembers about one particular mission that left him feeling as if he'd experienced divine protection.
"There was a lot of times there was a lot of holes in a lot of things."
Listen to Hometown Heroes to find out why Jim had to fly his 13th mission twice, what he remembers about Gen. Jimmy Dolittle, and the reasoning behind his having to fly 24 missions in 28 days in February, 1944. Flying long missions (11+ hours) that taxed the range of the B-17, Jim and his fellow 97th Bomb Group airmen helped damaged Nazi supply lines in advance of the Normandy Invasion. You'll hear about the challenges of flying high-altitude missions without a pressurized cabin, as well as some of the amazing things he witnessed from the air during his 52 missions. Morris says he was willing to stay and fly more missions, but 50 was the threshold at which airmen were rotated back to the states. He spent the rest of the war training other aerial gunners in Texas and California. He saw a good chunk of the world during World War II, but the recent Honor Flight marked his first trip to Washington, D.C. His daughter, Michele Le Clerc, was thankful to take that journey with him. You'll hear Michele share the moments that stood out to her, and even though she had heard many of her father's war experiences before, the new perspective she gained in our nation's capital. "It kind of put a whole different emphasis on it," Le Clerc says, recalling all the spontaneous moments that unfolded during the trip, moments that were "so unexpected and so memorable and amazing."
The story Jim and Michele relate on this edition of Hometown Heroes is representative of what more than 500 World War II veterans have experienced since Central Valley Honor Flight's launch in 2013, and what more than 100,000 veterans across the nation have enjoyed through the Honor Flight Network, established in 2006. The opportunity for a veteran to hear "Thank you" from a grateful nation, seeing existing connections strengthened and new connections forged, and the power to bring diverse people together behind a common purpose are just a few of the things that make Honor Flight a mission worth supporting.
—Paul Loeffler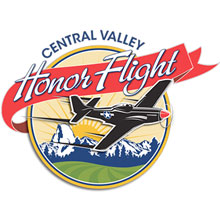 Social Share