LISTEN to Louis Zamperini on Hometown Heroes
The legacy of Louis Zamperini is the focus of episode #323 of Hometown Heroes, debuting July 12, 2014. Zamperini passed away at the age of 97 on July 2nd, six months before he would've served as Grand Marshal of the 2015 Rose Parade. We don't know if his beloved USC Trojans will be playing in the Rose Bowl, but we do know the movie based on his incredible life will hit theaters the week before, opening on Christmas Day. Universal Pictures first bought the film rights to Zamperini's story in the 1950s, and now it will finally hit the big screen as UNBROKEN, directed by Angelina Jolie. Watch the newly released trailer below.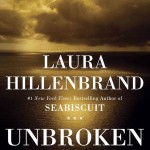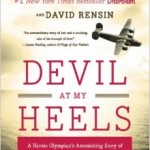 The film follows the best-selling book of the same name, written by Laura Hillenbrand, and Zamperini also published his own memoir, entitled "Devil at My Heels." Because of the success of those books, Zamperini's name is even more ubiquitous today than it was in 2011, when the interview you'll hear this week on Hometown Heroes was recorded. You'll hear Zamperini recall the events that led to his earning the nickname "Lucky Louie" very early on in life, not long after he moved to southern California from his native Olean, New York. His track prowess produced more nicknames, like "Zamp the Champ," and the "Torrance Tornado," and we'll hear him explain how he made it onto the 1936 Olympic team, as well as what it was about the trip to Berlin that may have cost him his chance to medal.
He shared a room in Berlin that year with Jesse Owens, who won four gold medals; and Mack Robinson, who took silver behind Owens in the 200 meters, and eleven years later watched his brother Jackie break baseball's color barrier. Those two showstoppers could have never imagined the story their slender, distance runner roommate. would have to tell decades later. You'll hear Louis remember how he grabbed the attention of Adolf Hitler, as well as how he swiped – and found a way to hold on to – a large swastika flag he'd seen flying from the chancellery. Studying at USC, he trained with the Trojans while hoping for a shot at a medal in the 1940 Games, which never took place because of the onset of World War II. Endurance and perseverance were his strong suits as a runner, but none of us can imagine surviving everything that Louis had to endure to make it home from the war.
Serving in the U.S. Army Air Corps as a bombardier on B-24 Liberators, Louis remembered some very close calls in the Pacific. You'll hear him describe the fateful search and rescue mission that left him sinking toward the bottom of the ocean, and you'll hear how his class ring from USC played a role in what he terms a "miracle" that saved his life. How did he survive 47 days floating in shark-infested waters, including a day that left 48 bullet holes in his tattered raft? When he finally was picked up, it was by Japanese forces, and he soon learned he was scheduled for execution. What was it that intervened and how did he overcome starvation and daily torture for more than two years as a prisoner of war? You'll hear Louis address all those questions in his inimitably energetic style, and lead us to the pivotal moment in which his story turned from potential tragedy to the inspirational example of perseverance, redemption, and forgiveness that has moved millions.
Among those countless people moved by Zamperini's remarkable journey is John Naber, his fellow USC graduate who took home four gold medals and one silver as the swimming star of the 1976 Summer Olympics in Montreal. Naber spent 2011 traveling with Zamperini to help spread his message of hope around the globe. He facilitated the interview you'll hear with Zamperini on Hometown Heroes, and when it originally aired in two parts in 2011, we also heard a little bit from Naber about the impact "Lucky Louie" had on him.
LISTEN to original 2011 broadcast Part I –//– LISTEN to original 2011 broadcast Part II
In the wake of Zamperini's passing, Naber has written a brief but poignant encapsulation of what Louis' legacy means to him. READ IT HERE, and then think about what you've drawn from Zamperini's "unbroken" example. By sharing those thoughts in the comments section here, on the Hometown Heroes facebook page, or via e-mail to paul@hometownheroesradio.com, you could win a family 4-pack of tickets to Universal Studios Hollywood. I'll read through all the responses and select a winner at the end of July. Thanks to Universal for providing those tickets for our Hometown Heroes audience, and of course for bringing Louis Zamperini's one-of-a-kind story to the big screen. Perspective is a powerful thing, and interviewing veterans has always left me with the impression that obstacles I might face in my life pale in comparison to what these hometown heroes have endured. Louis Zamperini's rollercoaster ride from track star to war hero, tortured prisoner to motivated missionary, Olympic torchbearer to rock star nonagenarian is capable of shaking up our perspective at every turn.
I know Louis Zamperini won't be forgotten, let's just make sure we don't forget the lessons his example taught us.
—Paul Loeffler


Social Share