LISTEN to Vern Thompson on Hometown Heroes
88-year-old Vern Thompson of Tulare, CA, appears on episode #143 of Hometown Heroes, debuting December 11, 2010. Born in Louisville, KY, Thompson grew up in Southern California. Listen to Hometown Heroes to hear him describe the unique way in which he learned of the Japanese attack on Pearl Harbor. Vern describes how he enlisted in the Army to play trumpet in the Army band. Among his bandmates at Camp Haan in Riverside were legendary jazz pianist and composer Dave Brubeck and famed actor Ken Curtis. When their band and dozens more were terminated in 1944, Vern would be moved to infantry service with the 13th Armored Division.
It was while serving with the 13th Armored Division on April 29, 1945 that Thompson ended up alone against a hidden German machine gun nest, a mission that would earn him the Bronze Star he's holding in the photo above. For a whole collection of photos from Vern's service in the war, visit the Hometown Heroes facebook page. Listen to Vern describe his Bronze Star incident, as well as how he ended up posing for the photo below at Hitler's infamous "Eagle's Nest."
You'll hear Vern recall some of those famous bandmates he had in the Army, as well as post-war stories like his involvement in Disneyland's very first day. A retired Baptist minister, Vern is convinced God's hand was on him through his time in the Army, as well as all the years since. If you have the privilege of knowing Vern, please thank him for his service to our country.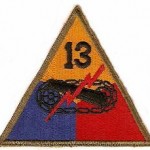 Social Share