LISTEN to Dave Wall on Hometown Heroes   —or—   LISTEN to complete interview with Dave and Sam Wall
89-year-old Dave Wall of Reedley, CA appears on episode #326 of Hometown Heroes, debuting August 2, 2014. Dave served as a medic in the Pacific during World War II, earning the Purple Heart for wounds suffered in the Philippines. We'll also hear from Dave's nephew Sam Wall, who followed in his uncle's footsteps as a decorated medic.
You'll hear Dave remember growing up on a farm in Madera, CA, and he'll share his clear memories of where he was and how he learned about the Japanese attack on Pearl Harbor. Army training wasn't all that difficult for a self-described "farm boy," but you will hear Dave describe one moment at Camp Barkeley (near Abilene, TX) that really stuck in his memory. It involves an orthopedic expert, a passage of scripture (from Psalm 139) that got Dave's attention, and an anatomical reality that would help him understand how fortunate he was when he survived the incident he refers to as his "own personal miracle."
Listen to Hometown Heroes to hear Dave remember being just a few steps away from Douglas MacArthur when the legendary general waded ashore on Leyte and addressed newsreel cameras about his return to the Philippines. It was on Leyte that Dave was wounded, and you'll hear in his account how his informed perspective as a medic tells him he was very blessed to survive. He continued serving with the 24th Infantry Division in the Philippines, seeing action on Mindoro, Mindanao, and Luzon as well. Being familiar with MacArthur's flight from the Philippines and the ensuing Bataan Death March, Dave found satisfaction in recapturing Bataan and Corregidor with the 34th Infantry Regiment, 24th Infantry Division in 1945.
Dave says he never talked much about his World War II experiences, but his trip to Washington, D.C. in October, 2013 changed that.
Joined by his nephew, Sam Wall, who served on his guardian on the inaugural Central Valley Honor Flight, Dave joined 68 other WWII veterans in experiencing the National World War II Memorial and other monuments in our nation's capital. That experience opened up his memories, especially when he discovered the special connection he shared with his nephew. Sam Wall served as a medic during the Vietnam War. Not only was he awarded the Purple Heart on two separate occasions, he also was decorated with the Silver Star for saving the lives of men in his platoon. You'll hear briefly from Sam at the end of the broadcast, and you'll also hear Dave reflect on how proud he is of his nephew. You might be surprised to hear which monument in Washington, D.C. proved the most meaningful for this World War II veteran. If you see Dave's smiling face, or hear his recognizable baritone, make sure to shake his hand and thank him for serving our country.
To find out more about the Honor Flight Network, and locate a hub like Central Valley Honor Flight in your area, check out this interactive map.
—Paul Loeffler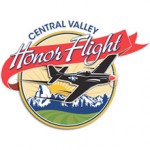 Social Share