Click Here to LISTEN to Leon Webster on Hometown Heroes
91-year-old Pearl Harbor Survivor Leon Webster of Fresno, CA appears on episode #241 of Hometown Heroes, airing December 1, 2012. Webster, a native of Oklahoma, enlisted in the U.S. Army Air Corps in 1939 and assigned shortly thereafter to Hawaii's Hickam Field. You'll hear him remember the moment on December 7, 1941 that left no doubt in his mind America was under attack: a Japanese fighter plane headed straight for him, with strafing bullets tearing up the street in front of him.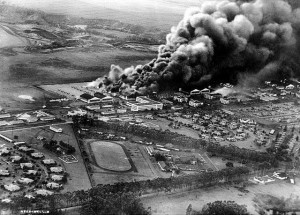 You'll hear Webster remember hiding under the tent city barracks at Hickam, hoping to ride out the first and second waves of Japanese planes. Then he and his friend, Don Thompson, started loading wounded and killed servicemen onto a truck for evacuation. His memories of that "date which will live in infamy" are still quite clear, 71 years later. To meet Webster and other local Pearl Harbor survivors, join us at the Central California VA Medical Center on the corner of Fresno St. and Clinton Ave. in Fresno on Friday, December 7 at 9:55 a.m. for a special remembrance ceremony.
Webster had been sent to Hickam Field by the U.S. Army Air Corps, but later was working there as a civilian mechanic. After the December 7 attack, Webster decided to enlist in the Navy, and ended up overhauling aircraft engines at the Ford Island naval installation. Before long, he met a young Hawaii native named Olive, and they were married in November, 1942. The Websters just celebrated their 70th anniversary.
Together, they have four children, eleven grandchildren, and nineteen great-grandchildren. That makes 34 people who would have never been born if that Japanese pilot's machine gun bullets had hit their target on December 7, 1941. If you meet Mr. Webster on Friday, please thank him for serving our country.
Social Share