LISTEN to Roger Maraist on Hometown Heroes
On a special Memorial Day edition of Hometown Heroes, we learn about one of the more than 405,000 Americans who died while serving in World War II, Roger W. Jamison of Fullerton, CA. Jamison flew B-25 bombers with the 12th Bomb Group out of North Africa, and was reported killed in action March 29, 1943, when his plane was shot down. That was the same day that Jamison had learned he was a father, and the son he never had the opportunity to meet takes us on a pretty remarkable radio journey on Hometown Heroes. Roger Maraist of Visalia, CA has written a book, "Letters Home From A Fallen Hero," detailing his quest to find out more about his father's life and death.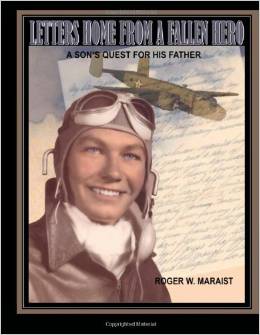 Maraist grew up hearing very little about his father, and for more than 60 years, believed that no one had survived the fiery crash of his father's B-25. As you'll hear on Hometown Heroes, he would eventually learn that there were survivors, and following those clues would lead to even further revelations about who his father was, and what might have happened to him.
Maraist discovered letters his father sent home to the war, along with letters written to the pilot by his mother, which were returned to her after the B-25 went down. Another clue came when Maraist unfolded a dollar bill that had been stashed away since his childhood with a small collection of his father's belongings.
"Circumstance or spiritual intervention?" is a question you'll hear Roger pose as he describes the trails of connections, twists and turns that have led to some significant revelations about his father and his crew. You can make your own conclusion after you hear the story, but be prepared, you'll also be left with some as yet unanswered questions that will leave you considering some eye-opening possibilities.
—
Paul Loeffler
For more photos pertaining to Roger Jamison, Roger Maraist, and the book, visit the
Hometown Heroes facebook page
.
Social Share