*IN MEMORIAM*
Vahram Kiramidjian passed away January, 2013. CLICK HERE for a link to his online obituary.
LISTEN to Vahram Kiramidjian on Hometown Heroes
87-year-old Vahram Kiramidjian of Fresno, CA, had an up close view of one of World War II's most daring and courageous moments. In the early morning hours of June 6, 1944, he trained a 5-inch gun aboard the USS Satterlee (DD-626) at the sheer cliff face of Pointe du Hoc at Omaha Beach. The Satterlee was the first American ship within range of Normandy that morning, and kept firing until all of its ammunition was spent.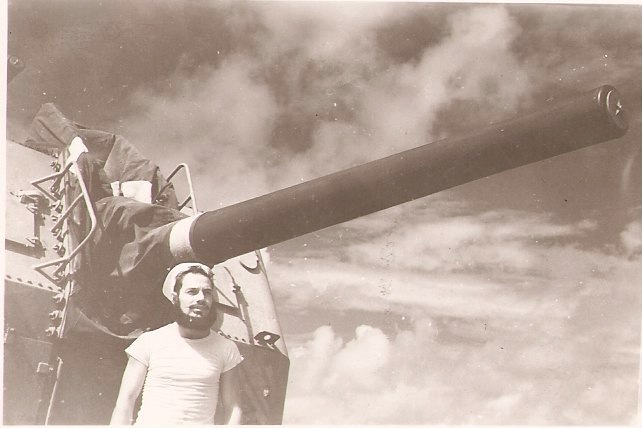 Through the zooming scope on that gun position, Vahram witnessed the courageous climb of soldiers from the 2nd Ranger Battalion, scaling the cliff in pursuit of German artillery perched atop it. That "suicide mission" at Pointe du Hoc was famously memorialized by President Ronald Reagan on the 40th anniversary of D-Day. On this week's Hometown Heroes, Vahram discusses his D-Day experience, as well as the Satterlee's adventures in the invasion Southern France. Hear how he ended up as an unlikely spectator at the titanic Army-Navy football game of 1944, and how he met up with his older brother Ludwig in North Africa.
Ludwig Kiramidjian, who died at the age of 102 in 2007, received the prestigious Legion of Merit medal after inventing a magnet that aided significantly in the removal of shrapnel from wounded soldiers in North Africa. Vahram cherishes his memories of his brother, and the men he served with aboard his destroyer. For more pictures and info on Vahram and the Satterlee, visit the HOMETOWN HEROES FACEBOOK PAGE. If you run into Vahram, ask him about his role in building Friant Dam, and please thank him for his service to our country.
Social Share