Use controls above or click here to open this Hometown Heroes podcast in a new window
Episode #428 of Hometown Heroes features two Army Air Corps veterans who had very different experiences in World War II, and live on opposite coasts of the U.S., but clearly share a common trait: they don't believe in slowing down.

Roy Cotner still lives on the rural property where he grew up in Sanger, CA, and at age 93, continues to comb the orchards on his golf cart, making sure the acres of oranges are properly watered. It's the same parcel of land on which he grew up, purchased in the 1920s from George Hume, who had once operated the world's longest lumber flume, The
Kings River Flume
.
Today, Roy Cotner lives on Flume Road, marking the path where giant logs once floated by on an elevated conveyance. It was the Hume family that had extended the flume by building a dam to create what has been known ever since as
Hume Lake
, now home to a popular resort for Christian camps. Roy used to fish at Hume Lake as a kid, and he also used to hunt with a .22 rifle. When he was in 8th grade, a mishap with that .22 nearly cost him his life, and later led to some confusion about his military status. Listen to Hometown Heroes to hear Roy explain those two scenarios, and to hear about the work he did repairing airplanes during World War II. A 1941 graduate of
Sanger High School
, Roy learned how to repair aircraft wings and bodies in a class at Fresno Tech before working as a civilian at the Sacramento Air Depot. After being drafted, he served in the U.S. Army Air Corps at multiple bases in Florida before being assigned to Wheeler Field on Oahu. When he arrived there in late 1943, he found some of the buildings still scarred by holes left by attacking Japanese aircraft on December 7, 1941.
He remained on Oahu, assigned to the 13th Replacement Depot, for the rest of the war, and marched in parades through Honolulu on both V-E Day (May 8, 1945) and V-J Day (August 14, 1945). His time on the island also led to his being baptized into the Church of Jesus Christ of Latter Day Saints. It was back home in California, however, where he would meet his wife. After a night of dancing at the Rainbow Ballroom, his dance partner informed him that she was taken, but her sister was not. The sister, Eva, would become Roy's wife, and together they would raise a family, farm citrus and develop a business, Sanger Tree and Vine Supply. You'll hear Roy discuss their most innovative product, an adjustable tree prop that soon became the industry standard. You'll also hear how Mother Nature made his first three years of post-war farming quite difficult, leading to a second career as a barber that last a quarter-century. Whether you sat in his barber's chair, bought tree props from him, or are fortunate enough to catch this energetic nonagenarian cruising by on his golf cart, make sure to thank him for his service to our country. Scroll to the bottom of this page for a short video of Roy taking us through his orchard.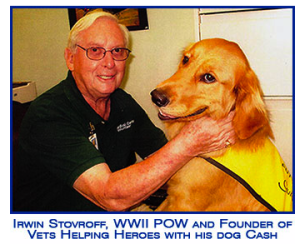 Irwin Stovroff continues to provide the energy and enthusiasm behind Vets Helping Heroes, a non-profit organization that has raised more than $3 million to provide service dogs for veterans returning from the wars of today. Listen to this episode of Hometown Heroes to find out what drove this ex-prisoner of war to launch that effort, and to hear the incredible story of how something as simple as a question mark added to a page may have saved his life. Hometown Heroes shared Stovroff's story in 2009 (Episode #85), but since that time his efforts to provide service dogs have only intensified, and he has also become the subject of a popular book. An Extraordinary Life… Gone to the Dogs is the book, by author Lisa Weiser, who has chosen to donate 50% of the book's profits toward the training of service dogs.

Stovroff's story of World War II service
is remarkable. On August 13, 1944, he was flying his 35th mission as a bombardier with the
44th Bomb Group
, 506th Bomb Squadron. 35 missions would complete the crew's tour, and enable them to go home to the United States. It turned out to be their final mission, but nobody expected it to end with parachutes parading out of a damaged B-24 Liberator dubbed "Passion Pit."
Listen to Hometown Heroes to hear Irwin describe his nine months as a prisoner of war, including the surreal interrogation at the infamous Dulag Luft. You'll hear him explain the incredibly unlikely connection he shared with his interrogator, who in a moment of compassion added a tiny notation to Stovroff's file that Irwin is convinced became a lifesaving stroke. A question mark next to "Jude" on his file cast his religion into doubt, and bought him some time.
He was transported to Stalag Luft I in Barth, Germany, where eventually his Jewish heritage was discovered. There were reports that Hitler had issued an order to execute all Jewish prisoners, but thankfully, that order was never carried out at Stalag Luft I, and Irwin and the other prisoners were liberated. After a long post-war career with
Thomasville Furniture Industries
, Irwin became a veterans service officer at his local VA in Florida, which led to his founding of
Vets Helping Heroes
. To date, his efforts have resulted in more than 225 service dogs being provided for returning veterans. He is determined to see that number reach 300, and would love to have you join his team. Find out more at
vetshelpingheroes.org
, where you can
donate
to the cause, and learn more about how veterans can qualify for the service dog program.
—
Paul Loeffler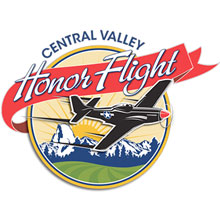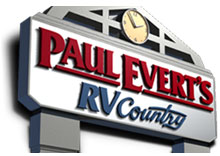 Social Share