88-year-old Irving Mann of Rochester, NY appears on the June 8, 2013 edition of Hometown Heroes, remembering his experiences with the "Tough 'Ombres" of the 90th Infantry Division during World War II.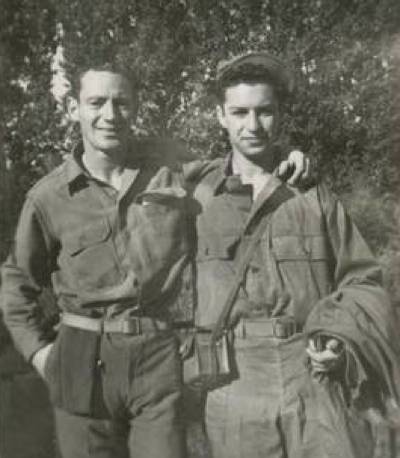 Irving Mann (right) as a World War II infantryman.
You'll hear Mann remember growing up in Rochester, NY, and receiving his draft notice shortly after he graduated from high school. At 5'6″ and roughly 120 lbs., he wasn't the biggest soldier, but he considers himself a very fortunate one. Coming ashore on Normandy's Utah Beach on D-Day represented his trial by fire, and soon foxhole-digging became the norm for him. Mann remembers a much larger soldier jumping into his foxhole and landing on top of him. When the incoming artillery shells finally ceased, he tried to move the other soldier, only to realize he had been killed. Attributing his survival to the power of prayer, he would endure many other close calls. In December, 1944 near the Saar River, he would receive what many would call a "million dollar wound." It was severe, and he nearly lost his leg, but it got him off the front just before his division became entangled in the Battle of the Bulge. The road to recovery was long and hard, and he still carries shrapnel in his leg, but you'll hear Mann reflect now on the timing of it all, and the divine hand he sees in how it all worked out. The Rochester Democrat and Chronicle published an excellent story about the most recent development in Mann's story, one you'll hear him detail on Hometown Heroes.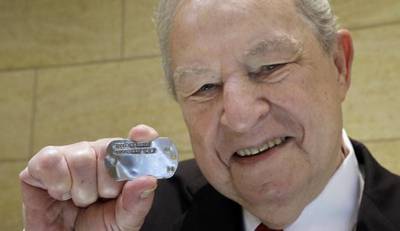 88-year-old Irving Mann with his long lost dog tag. (AP photo)
It never even occurred to the Purple Heart recipient that he had lost his dog tag. But the package that recently arrived at his Rochester jewelry store contained a piece of metal that was unmistakably his. It had emerged from the soil of a barley field in France, and the young french woman who found it had tracked him down. You'll hear Mr. Mann share what this whole adventure has taught him, and you'll also hear him reveal the gift he sent to France in return. If you find yourself in Rochester, stop by Mann's Jewelers to see his medals on the wall. If you catch the chairman of the board in his office, make sure to thank him for serving our country.
—Paul Loeffler
Social Share